CLAYTON A. DANN, 1862...1929
Clayton A. DANN b 1862; Judy Hymes is descended from Clayton; her grandmother was Annie Dann Irvin. She writes as follows, in an introduction:
"... I am the granddaughter of Anna Dann Irvin, one of the half sisters Lynn Dann mentioned in your website quote. My grandparents all died before I was born and I believe that is why I became interested in genealogy at about age 10 and have been documenting relationships on all sides ever since.
On the personal side, I was born in Blossburg, Tioga Co. in 1941, grew up in Tioga, graduated from Mansfield, Drexel and University of Pittsburgh. Lived in Manheim, Lancaster Co., Phil., Puerto Rico, Pittsburgh, and Chestertown in that order.
I don't know how much you know about my line, but Clayton Dann had two daughters, my grandmother and Effie Dann Herman, by his first wife Emma Bunn in Union Twp. Emma died young, and Clayton took the two girls and went to Mt. Pleasant, Henry Co., Iowa to visit his Barker grandparents. The Bunns were unhappy about the two granddaughters being in Iowa; They travelled out and returned to raise them in the Town of Union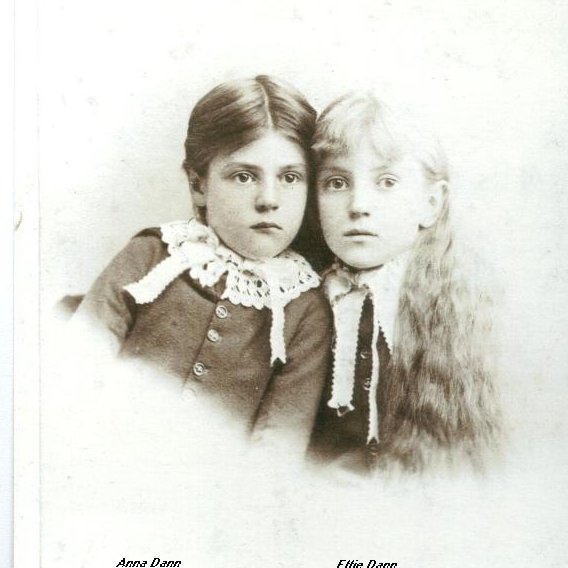 Anna Dann on the left and Effie Dann on the right, children of Clayton Dann and Emma Bunn Dann.
Picture taken in Mount Pleasant Iowa, about 1888.
Clayton married a 2nd time in Iowa and had 8 children (7 boys & a girl) by his 2nd wife. The older ones were born in Iowa before he returned to Steuben Co. My grandmother, Anna Dann Irvin also died young in childbirth leaving 4 children. Dr. Alpheus [Alpheus Edgar Dann, son of A.J.] delivered my uncle and attended my grandmother.
My mother spoke of going to Dann family reunions at the Scudders when she was a child. I knew some of my grandmother's half brothers and her half sister Aunt Mary Dann Butler, but because my grandmother was not raised with her half siblings, and she also died young, the ties with the Danns were not strong. Of my mother's uncles, I knew uncle Edgar Dann in Addison the best. I have contacted a number of Mom's cousins over the years and collected as much as I could. The generations overlapped, my mother and her sister were older than some of their uncles. My mother's sister, Margaret Irvin Haischer, lived in Corning and I knew your grandfather, Bob Dann, as well as the Stevens and Scudder families were relations, but I never knew any of them personally..."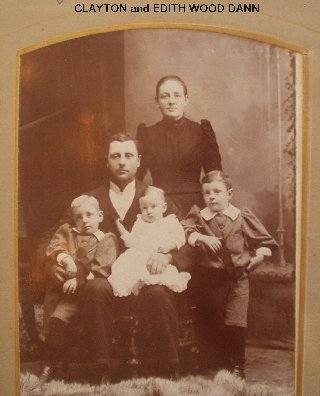 Clayton and Edith, with their first three boys.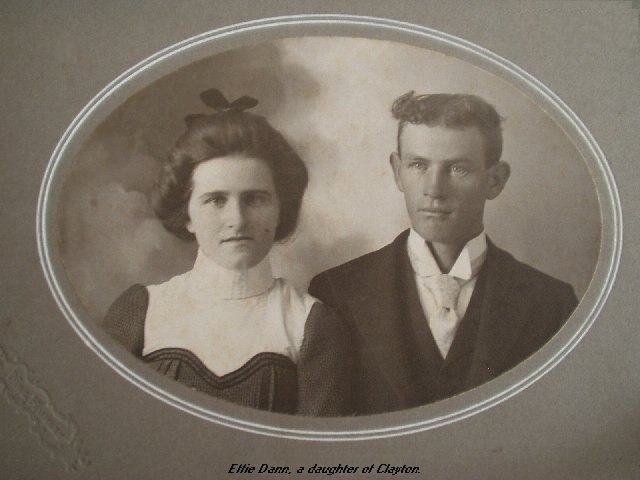 Effie is the Mrs. "Herman" in her sister's obituary below. She and Nathan Herman were married in the Steuben County Town of Lindley, August 16, 1899.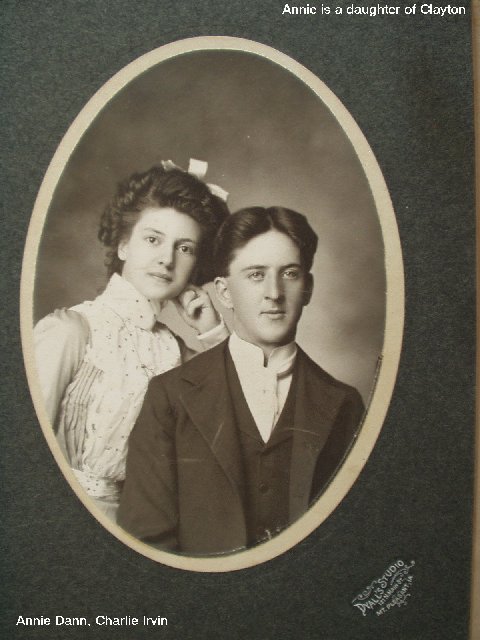 Annie Dann's obituary:
DANN - Mrs. Charles Irvin, of Ogdensburg, died July 20 and was buried in the family plot at that place on Saturday at 2 p.m., Rev. Mr. Patterson, of Avis, - her former pastor, officiating. She is survived by her husband and three children, besides the infant son for whom she gave her life. She is also survived by one sister, Mrs. Herman, of Ogdensburg, and her father, Claton Dann, of Big Flats, N.Y. She was a member of the Disciple church, a loving wife and mother. Source: The Wellsboro Agitator, July 27, 1921, Page 1, Column 2 Dann -Mrs. Charles Irvin. Is Anna E. Dann born 5 JUL 1883 Ogdensburg and died 20 JUL 1921 Ogdensburg. Her parents are Clayton and Emma (Bunn) Dann.
---
His second wife was Edith Wood, and they were married in Mount Pleasant Iowa. They apparently settled there afterwards. Most all of the family returned to the Steuben County area around 1900. Upon his return, he first worked at the Arnot farm, which was a large dairy and tobacco farm located where the Arnot Mall now stands in Big Flats NY.
The children of Clayton and Elizabeth were provided by Wanda Butler White,a daughter of Clayton and Edith's daughter Mary:

1. Charles Edgar, born 7/10/1889 in Mount Pleasant Iowa. Married 1st Ruth Scutt and had a daughter Evelyn Marion. Married 2d after Ruth's death Alsatia Anthony and had one son Kenneth. Charles died 5/10/1973 and is buried at Coopers Plains NY
2. Earnest Clayton, born 8/26/1890 in Mount Pleasant, Iowa. Married Arlene Dopp and had children Sherwood and Natalie (married Robert Cramer). Earnest was in WWI and worked as a civilian for the federal government. Date of death unknown, buried in Arlington National cemetery.
3. Frank Jackson born 2/17/1893 in Mount Pleasant Iowa. Married Eva Smith and had seven children: Edith (married Plumley), Edwin, Mary (died young in a fire), Dale, Romney, Glenna (married unknown)Elizabeth (married Joe Berlin)
4. Mary Florence born 11/18/1895 in Mount Pleasant Iowa. Marrried 1st Fred Millerand had one son Elwin Lynn. Married 2d. Waldo Butler and had three children Florence (never married) Eileen (married Jenks) and Wanda Jean (married 1st Roland Bentley and had children Mary, and twins David and Daril) Married 2d White. Mary died 11/25/1987 and is buried at Butler Hill, Knoxville TN. She at one time taught school in Coopers Plains.
5. Raymond Orville born 12/13/1897 in Mount Pleasant Iowa. Married Margaret Putnam and had children Thelma (married Cook) Waneeta (married Fairfield) and Lettie (married Haynes). Raymond died 9/6/1973 and was buried in Addison NY.
6. Romney Forrest born 8/17/1899 in Mount Pleasant Iowa, married Ruth English and had children Richard, Phyllis (married Clifford) and Florence (married O'Bryan). He died 9/28/1974 and is burien at Coopers Plains NY.
7. Gilbert Wood born 12/3/1902 in Coopers Plains NY married Caroline Young and had one son Lawrence. Died 9/19/1982 and is buried in Coopers Plains NY
8. Lynn Bruce born 12/15/1904 in Cooers Plains NY married Violet Smith and had children Lynn Philip, Nelda (married Doty) and Joyce (married ?). He is buried in Addison NY.
9. Guy Everett born 8/1906 in Coopers Plains, NY married Mary Morse and had children Lela (married Cardaro) Helen (died young). He married 2d Dorothy Lovejoy and had no children. Death and burial are not known.
---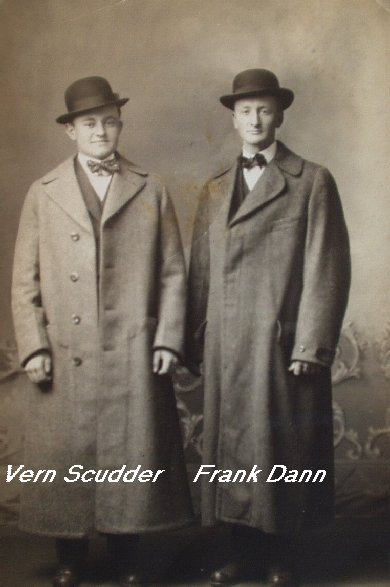 Cousins... Vern is a son of Mary Dann Scudder, and Frank is a son of Mary's brother Clayton.
---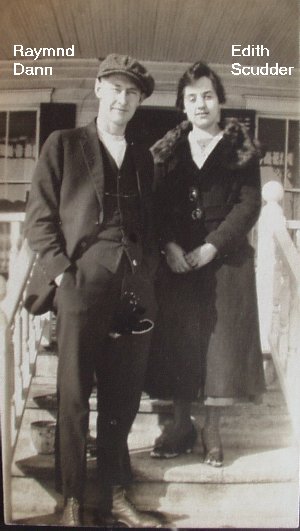 Cousins... Ray is a son of Clayton and Edith is a daughter of Mary. The names were copied from a notation on the picture, but could stand correction; They appear to be too far apart in age. Please advise.
---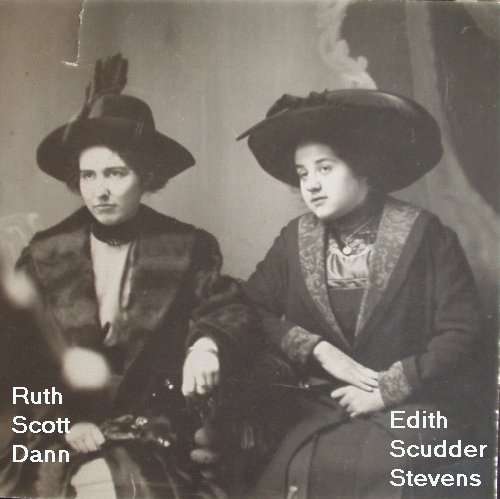 Ruth is the first wife of Clayton's son (edith's cousin) Edgar.
NOTE: Ruth's maiden name was "Scutt".
---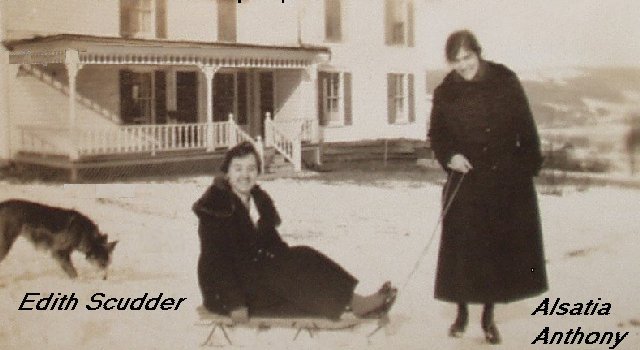 Alsatia is the second wife of Edgar. She first married a Batchley.
---
The stone of Edgar and Alsatia, with Ruth's stone adjacent. Both are next to the Scudder stones in the Coopers cemetary.
---
From the collection of Ronald Dann White, a picture of his grandfather Edgar (actually Charles Edgar) Dann. Edgar had a dairy farm in Addison, NY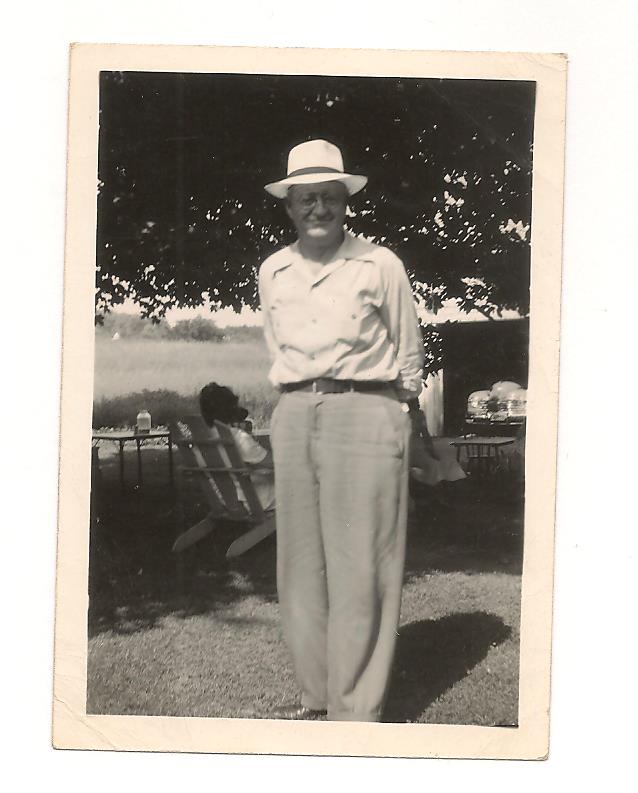 This photo was taken at 35 Steuben St. Addison NY, Edgar was 59 at the time. The background of pictures like this are often interesting... Note the car in the shed, the chairs pulled into the shade and the bottle of (lemonade?) on the table.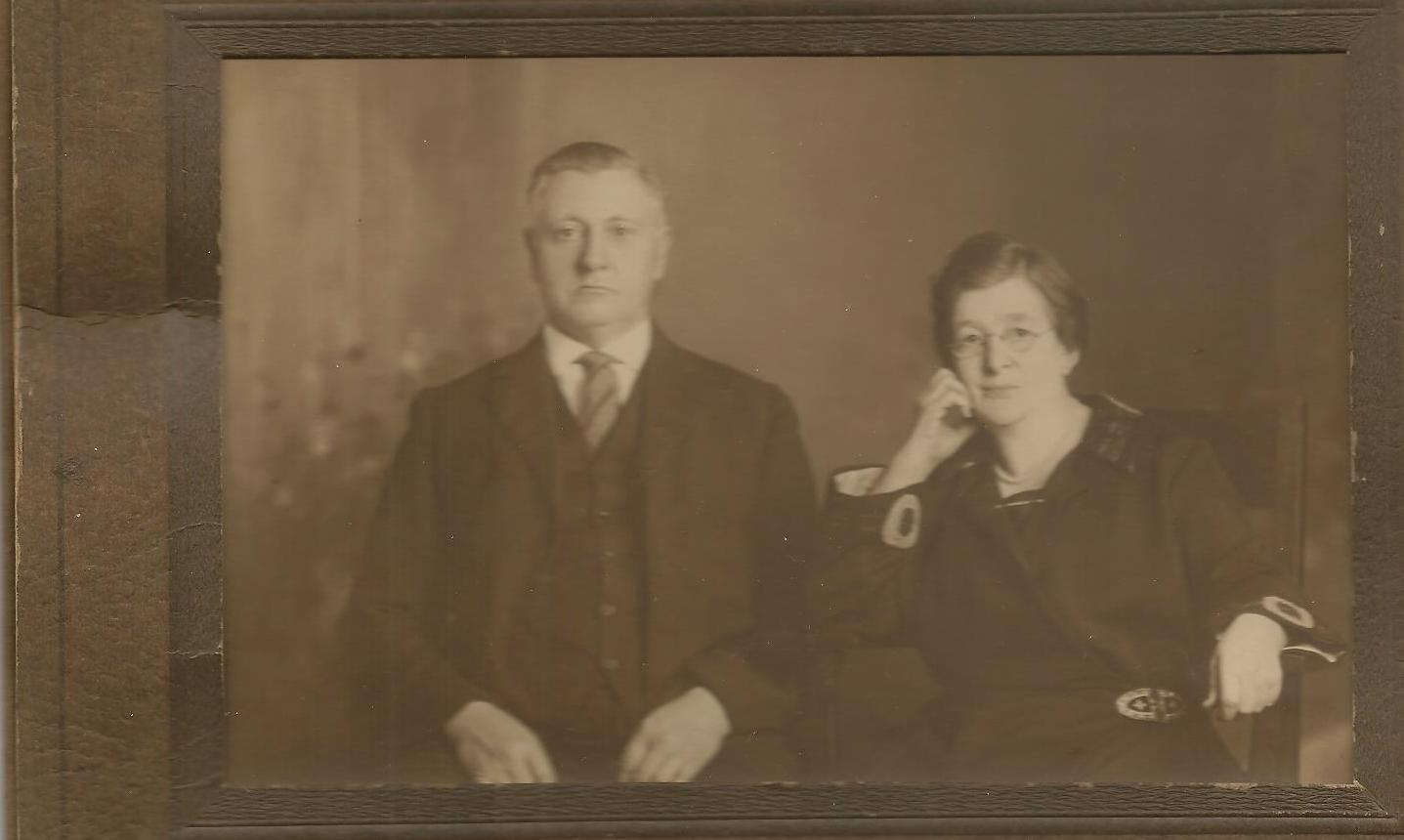 Claytyon and Edith Dann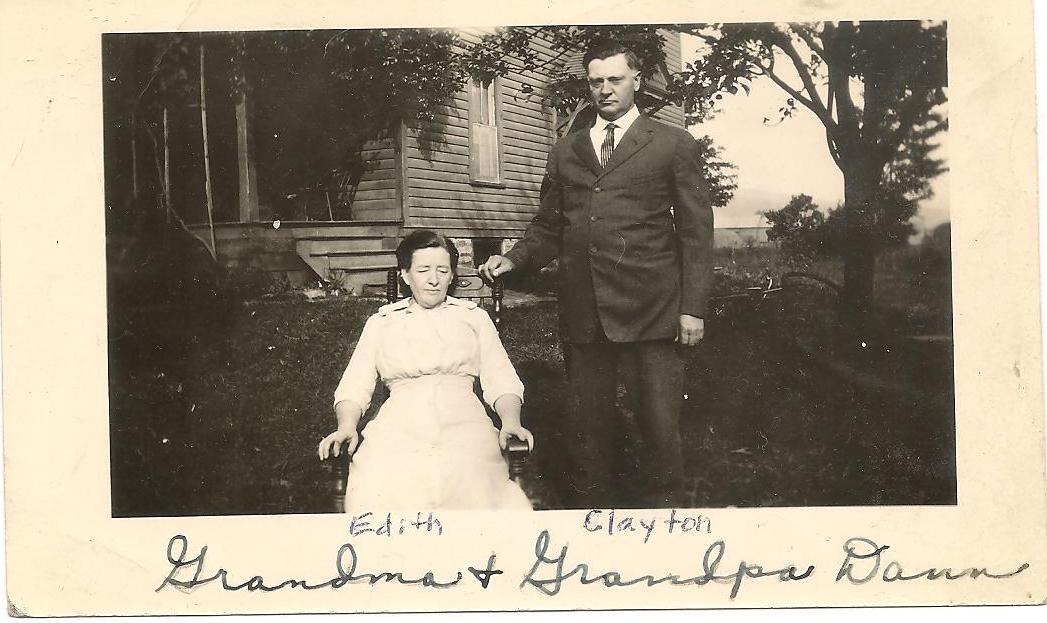 Claytyon and Edith Dann
l-r top: Romney, Charles Edgar & Frank l-r kneeling: brother-in-law Waldo Butler-married to Edgar's sister Mary Dann, Raymond Dann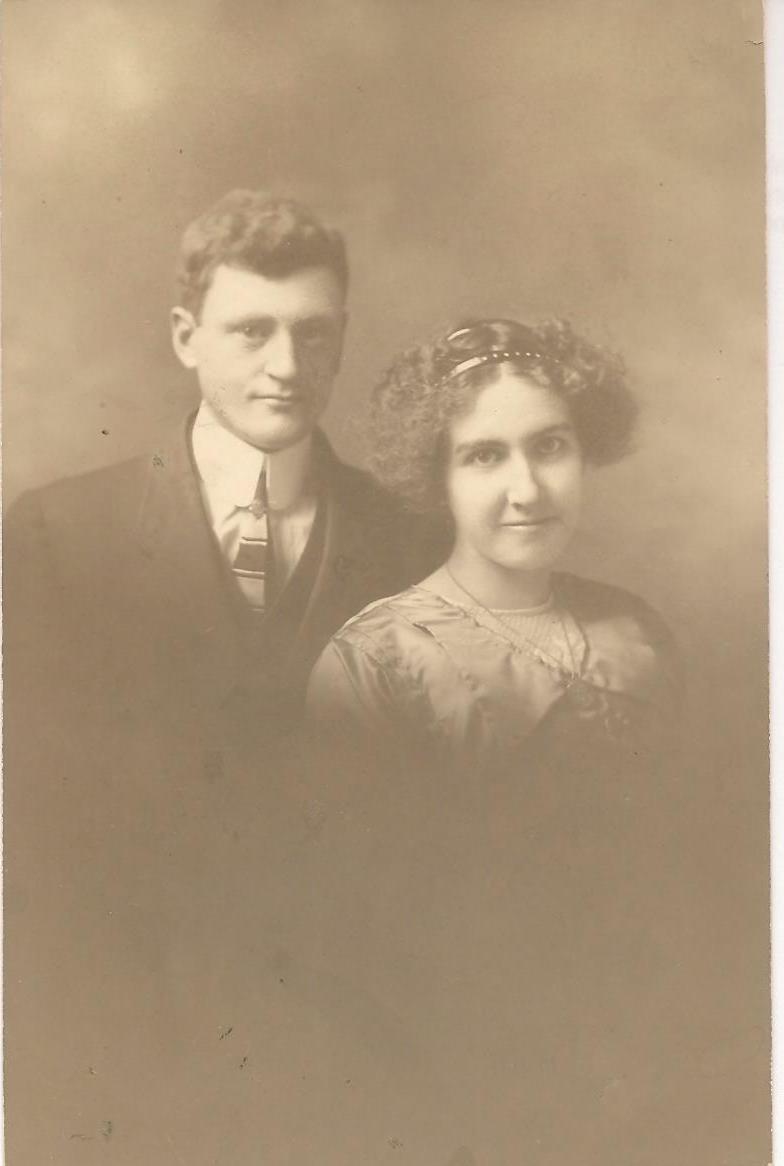 Edgar and Ruth Scutt Dann. Edgar's second wife was Alsatia Anthony.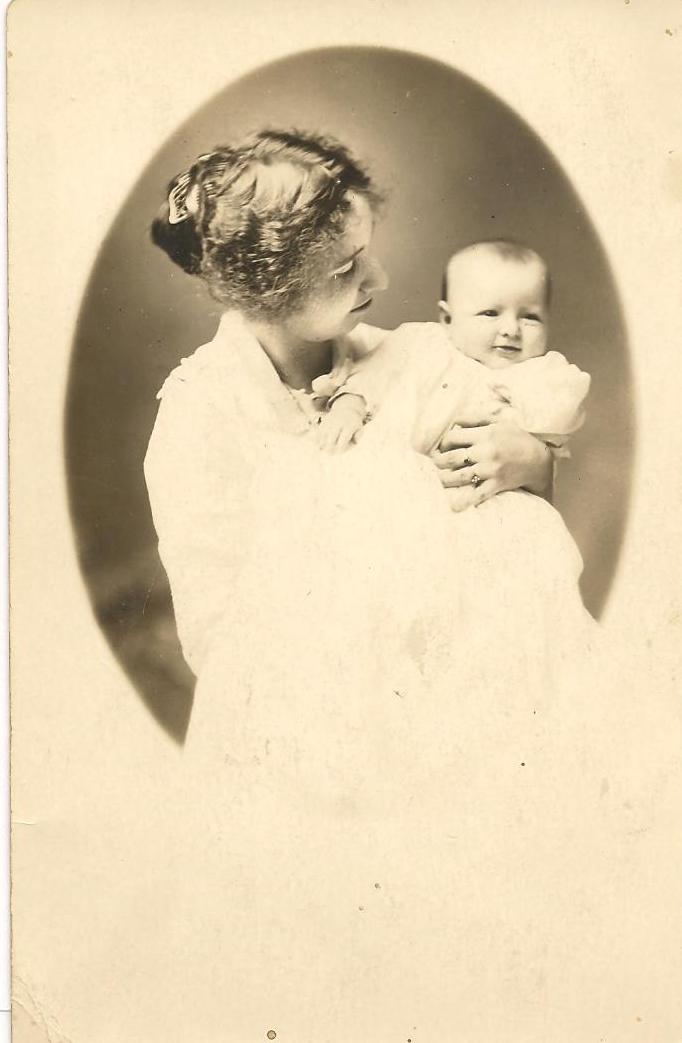 Ruth holding baby, possibly Kenny, Marian, or Evelyn.